The Pickswise NFL Power Rankings: Bucs bounce back to top after Week 6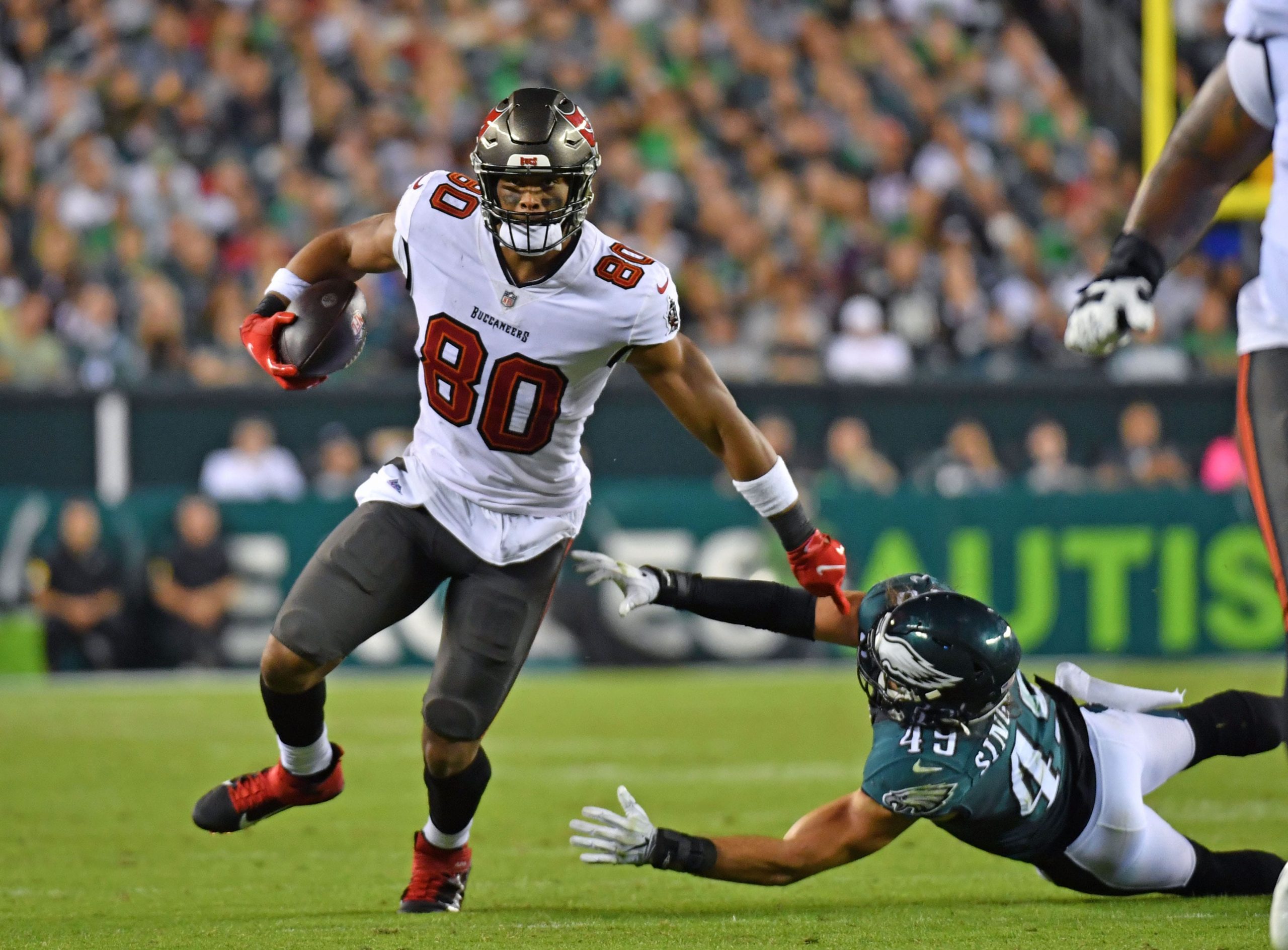 The Bucs are back! The Super Bowl champions have regained first place in the Pickswise NFL Power Rankings after the Week 6 games. Tom Brady's team beat the Eagles in the first game of the week, while the deposed top dogs Buffalo lost to Tennessee in the last game of Week 6. They shouldn't have lost, having dominated the majority of the game, but computers don't do sympathy and these are not participation rankings.
This season, we've handed over control of our NFL power rankings to the Pickswise supercomputer. Our data science team has created a predictive machine learning model that makes use of a proprietary dynamic rating system. In addition to analyzing in-house derived metrics, the model also adapts to situational factors such as rest weeks, home-field advantage, and time-zone differentials.
Let's take a look at how the computer ranks all 32 teams heading into Week 7.
1 Tampa Bay Buccaneers (5-1)
Things are going along pretty nicely for the NFL champions and they've had a nice mini-bye after playing on Thursday of Week 6 to prepare for the Bears. That said, Richard Sherman's injury is just the latest in a crop of secondary issues. Their schedule still suggests a smooth roll through to a high playoff seeding, though.
2 Buffalo Bills (4-2)
The Bills should really be 5-1 and they didn't do much wrong, offensively at least, until the final minute of their Monday night loss against the Titans. Over-confidence and aggression is not a terrible characteristic for a team to have, but they paid the price this time.
Check out our MNF reaction as the Titans beat the Bills
3 Baltimore Ravens (5-1)
The Ravens looked like a suspect top-3 team last week but there should be fewer complaints after they smashed the Chargers 34-6. This week's AFC North game against the 4-2 Bengals now looks bigger than it would have a few weeks ago.
4 Green Bay Packers (5-1)
Another unchanged ranking here as the Packers moved to 5-1 after winning in Chicago. It was interesting to learn that Aaron Rodgers owns the Bears — do you think he would be interested in selling?
5 Arizona Cardinals (6-0)
We have more 5-1 teams to come, but how about the only 6-0 record in the NFL first? The Cardinals stomped all over an injury-hit Browns team even without their head coach Kliff Kingsbury in attendance due to Covid protocols. Cleveland themselves won a playoff game last year without their head coach, and the Raiders won this week after parting ways with Jon Gruden. Do we even need the well-paid guys with headsets?
Three of our NFL experts weigh in on whether it's time to jump on the Cardinals' Super Bowl bandwagon
6 Los Angeles Rams (5-1)
Scoring 28 points in the second quarter should work for most teams in most weeks, and so it proved for the Rams as they marched to a 38-11 win over the Giants. They are a 15.5-point favorite against the Lions this week, with the Texans to come after that, so things are looking good.
7 Kansas City Chiefs (3-3)
The Chiefs won by 18 points this week but they still trailed Washington at the half and didn't look great to that point. The game total for their matchup with the Titans this week is almost certainly over 100 points. Okay, I've checked, it's only 57.5, who wants the under? Anyone?
8 New Orleans Saints (3-2)
You may remember that the Saints headed into their bye with a W-L-W-L-W record. Can the Seahawks step up to keep that sequence going?
9 Dallas Cowboys (5-1)
Dallas can claim to be potentially deserving of a higher rank as a 1-loss team, but they almost made a hash of what could have been a more comfortable win in New England. It was a win though, and they look to have a real player on their hands in cornerback Trevon Diggs.
10 Los Angeles Chargers (4-2)
Maybe the Chargers and Browns took too much out of each other in their Week 5 epic, because they both had nothing to offer on Sunday. The Chargers achieved the rare feat of scoring 41 fewer points than they had in their previous game when they were steamrolled by the rampant Ravens.
11 Tennessee Titans (4-2)
Monday's win kept the Titans 2 games ahead in the low-rent AFC South and they're going to be hard to catch, although the loss for the season of rookie cornerback Caleb Farley is another blow their defense didn't need.
12 Seattle Seahawks (2-4)
The Seahawks managed to cover against Pittsburgh without their starting QB and starting RB, but they self-destructed in overtime to fall to the bottom of the NFC West.
13 Cleveland Browns (3-3)
The Browns are being decimated by injuries — they had 20 players on their first injury report for Thursday's game against the Broncos, even without the guys already on IR. They could conceivably be missing their starting QB, both their star RBs, their top 2 WRs and both starting offensive tackles this week. Could we see players playing both ways against Denver on Thursday? They could really do with getting to their bye week in… oh, Week 13.
Be sure to check out our full game preview for TNF Broncos vs Browns
14 Indianapolis Colts (2-4)
The Colts and 49ers swap positions here as San Francisco pays a price for taking a bye while the Colts beat the Texans 31-3 to record a welcome first home win of the season.
15 San Francisco 49ers (2-3)
The battle for 14th and 15th place in the rankings takes place in San Francisco this week, with Jimmy Garoppolo looking likely to be the 49ers' starter against the Colts. They may even have some healthy running backs after their early bye.
16 Las Vegas Raiders (4-2)
No coach? No problem for the Raiders (or at least, not as many problems as the Broncos have). If interim coach Rich Bisaccia can also beat the Eagles heading into their bye there could still be plenty to play for in the second half of their season.
17 Minnesota Vikings (3-3)
A 3-3 record looks a lot better for the Vikings than 1-3 did, but they're heading into a nasty stretch in their schedule with the Cowboys, Ravens, Chargers and Packers up next.
18 Pittsburgh Steelers (3-3)
The Steelers are another team on the up and they're getting the breaks too, facing the Geno Smith-led Seahawks going into their bye and potentially the Case Keenum-led Browns coming out of it in Week 8.
19 New England Patriots (2-4)
New England at 2-4 doesn't look quite right, but they are still second in the AFC East thanks to the greater incompetence of the Jets and Dolphins. The Pats put up a good fight against the Cowboys and they get a chance to beat the Jets for the second time this season this week. You can only play them twice, though, Bill.
20 Chicago Bears (3-3)
The Bears battled away against the Packers with 3rd-string running back Khalil Herbert making a good impression, but it doesn't get any easier with the Buccaneers coming next.
21 Cincinnati Bengals (4-2)
This one could be controversial, with the Bengals having a strong case to be at least a few places higher than this, but the computer clearly needs to see something more than a win over the Lions. Upsetting the Ravens this week would surely do it.
Read Back To The Futures as oddsmakers react to the Week 6 games
22 Carolina Panthers (3-3)
The Panthers have gone from 3-0 to 3-3 and maybe after they've played the Giants and Falcons in their next two games we'll know a little more about where they really stand. Stephon Gilmore could be available for his Panthers debut soon but Christian McCaffrey has to miss at least those games.
23 Denver Broncos (3-3)
The Broncos have matched the Panthers stride for stride with their W-W-W-L-L-L record but they meet just about the only team in the league with more injury issues than them on Thursday night when they visit Cleveland in an emergency-room special.
24 Miami Dolphins (1-5)
It was probably a quiet flight back from London as the Dolphins tried to figure out how they ended up handing the Jaguars their first win of the season at Tottenham Hotspur Stadium. Miami had looked in control for much of the game and Tua Tagovailoa gave a promising performance on his return but there's plenty of thinking to do, and not much time to do it as unlike most teams who play in London, they don't have a bye week to recover.
25 Philadelphia Eagles (2-4)
The Eagles have lost 4 of their last 5 games as they head to Las Vegas to face the Raiders this week, but they are on course to have 3 of the top 10 picks in next year's draft as they own the Dolphins' and (currently) the Colts' first picks as well as their own.
26 Washington Football Team (2-4)
The WFT defense was meant to be a top unit in the league, but they've conceded at least 29 points in 5 straight games. And they've got the Packers this week.
27 Atlanta Falcons (2-3)
The Falcons have had a week to bask in the glory of their International Series win over the Jets in London, and they have an edge over the Dolphins this week, having had a week to get over their transatlantic trip, while Miami is fresh off the plane.
28 New York Giants (1-5)
A 1-5 record doesn't look great for the Giants and while heavy defeats by the Cowboys and Rams were forgivable, fans will want to see more from them against the Panthers this week.
29 New York Jets (1-4)
The Jets have crept ahead of the Texans by the slenderest of margins thanks to the masterstroke of not playing in Week 6 while the Texans suffered another big defeat. With smart moves like that, the season is not yet lost.
30 Houston Texans (1-5)
It's no surprise that a 31-3 loss to the previously 1-4 Colts has seen the Texans fall, and fans of huge spreads might like to know that they can be backed with a 17.5-point start against the 6-0 Cardinals this week.
31 Jacksonville Jaguars (1-5)
What a great last 10 days Urban Meyer has had! His team picked up their first win of the year in London and it was enough to lift them out of last place in the rankings. And he also had a nice time in a bar, apparently. I hadn't heard anything about that.
32 Detroit Lions (0-6)
Maybe Dan Campbell should have saved his tears for this week, because the Lions' performance against the Bengals really was worth crying over. He's threatened to bench QB Jared Goff, but with David Blough next in line and Tim Boyle on IR, it's hard to see what there is to be gained by that.
Pickswise is the home of free NFL Predictions  and NFL Odds. Check out the latest NFL Prop Bets and NFL Parlays as well as expert NFL Underdog Picks and NFL Computer Picks.