Fans of Detroit Lions come from the draft as the happiest, whilst fans of rivals Minnesota Vikings are the least impressed with their teams choices, Twitter study finds. 
Pickswise has collected Tweets directed to all NFL teams between April 25-May 2nd to see whether fans approved of their teams draft picks or not. Using the data, Pickswise analyzed positive and negative sentiments in the Tweets to find out who came on top.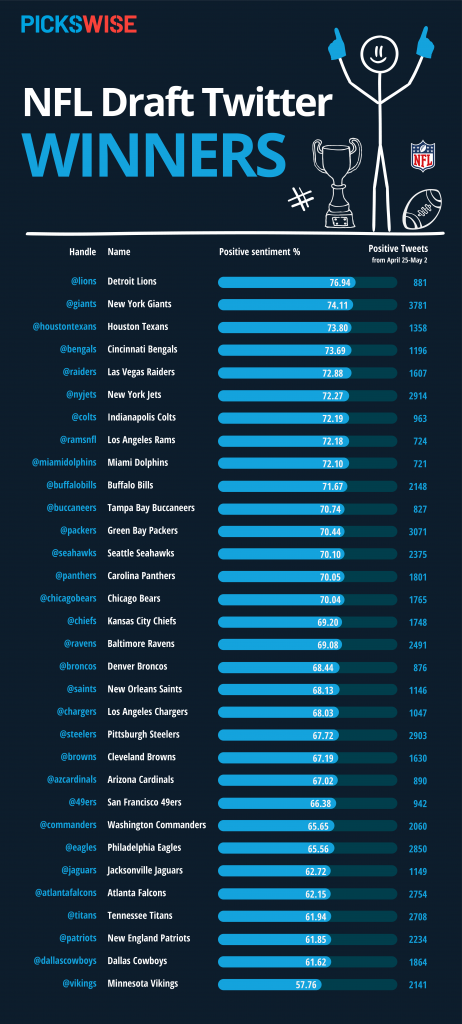 Detroit Lions top the list with 76.94% of the tweets collected carrying a positive sentiment. Lions fans seemed to revel in the pick of Aidan Hutchinson at number two after the Jaguars went the way of Travon Walker. The Lions continued to perform well in the draft according to their fans, including moving up 20 spots in a deal with rivals Vikings. 
However, it was a deal that seemed to rub Vikings fans the wrong way, leading to 42% of the tweets holding a negative sentiment, making them the team with the worst approval rating in the NFL. 
With the first pick of the 2022 draft, the Jacksonville Jaguars selected Travon Walker, and the fans were not too happy with this. With Walker and Hutchinson both in contention for the number 1 pick, some Jags fans wished they had gone with the now Lion. 
The Jags had the 6th-most negative tweets out of the whole league, with 37.28% of the tweets analyzed holding a negative sentiment towards the Jaguars and their draft business. 
Fans of the New York Giants seemed happy, sitting second with the majority of the tweets aimed at the Giants being positive. Which might have something to do with snapping up two players who rivals Dallas Cowboys had interest in. 
No surprise that the Cowboys have some of the most negative tweets, with just over 38% of them showing disappointment in the picks and deals done by 'America's Team'. 
It was a quiet first two rounds for the Super Bowl Champions LA Rams, whose first pick came in the third round. But despite the wait, fans seemed to be impressed with Les Snead and Sean McVay's selections, showing a 72% rate of approval. 
It was a strange one for the New England Patriots, with Belichick's first-round pick Cole Strange, an offensive lineman coming from Chattanooga, along with the rest of his picks not getting the fans' approval. With 38.38% of Tweets directed to the Patriots being negative, it puts the New England team third from bottom.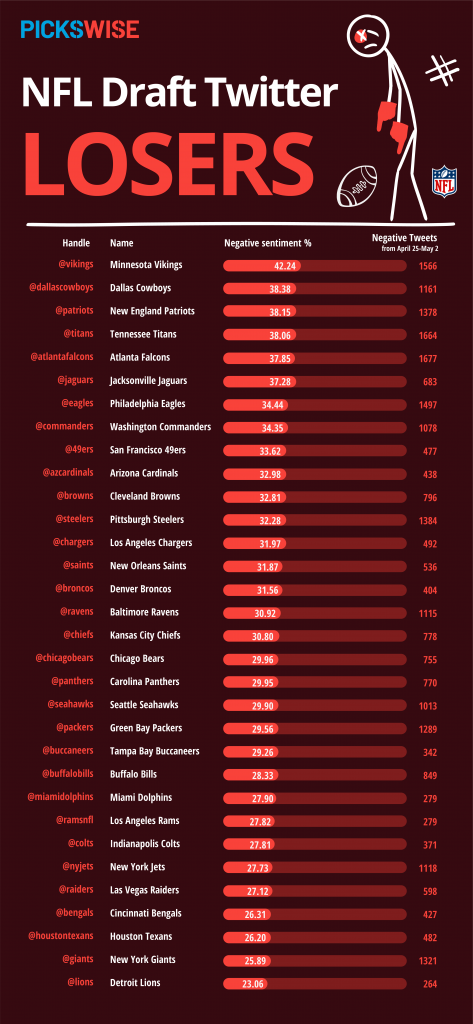 Pickswise is the home of free sports picks, news and best bets. Check out our expert NFL Picks, NBA Picks, MLB Picks and NHL Picks pages for our latest game Picks.