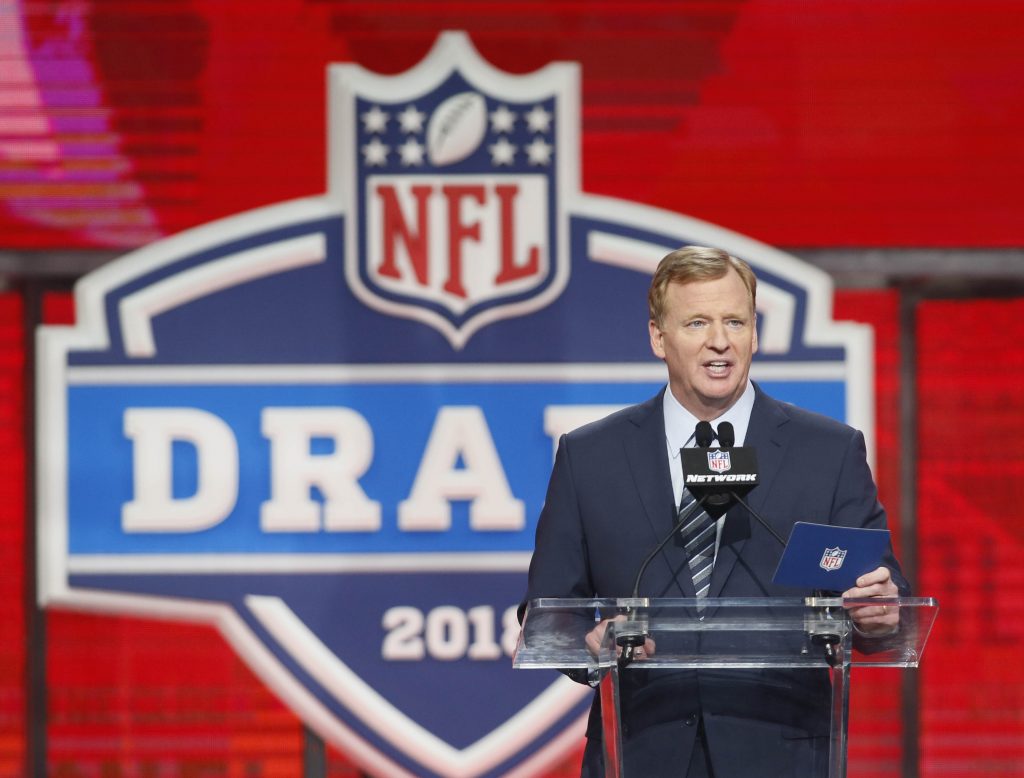 Matthew Stafford's trade to the L.A. Rams saw two things: The Rams trading away two first round picks, and their last first round pick – Jared Goff – leaving. 
More recently, the Miami Dolphins have traded away five future draft picks for Tyreek Hill, and a total of eight teams currently are without a first round pick in the upcoming draft. 
The Rams have not had a first round pick since 2016, but have reached the Super Bowl twice in that time and won one. Their formula might just be the reason they came out on top, but what about other Super Bowl winning teams? 
We at Pickswise had a look at the last 10 Super Bowl winning teams to see just how much of their rosters were made from their previous draft picks.  
While the Rams' Super Bowl winning team posed questions about their draft strategy, the findings show that they are actually pretty average when it comes to how many drafted players were in their winning roster. 
The New England Patriots Super Bowl LI winning team utilized the most from their draft days, with over 54% of their victorious roster being drafted by the Patriots. 
The Pats had some of the highest percentage of drafted players in their three winning squads, with many recurring through the three teams. The likes of superstars Tom Brady, Rob Gronkowski and Julian Edelman were all drafted by the Patriots, and a legacy was created in New England as they built for the future filled with success. 
However, now the future is not so bright with Belichick's team not quite reaching the same levels of success as before. Maybe it's now time to start rebuilding their squad with young talent through the draft, and attempt to recreate what worked so well for them in the past. 
| | | |
| --- | --- | --- |
| Team  | Percent Acquired Through Draft | Percent Acquired Through Trade/Free Agency |
| L.A. Rams | 44.64% | 55.36% |
| Tampa Bay Buccaneers | 41.82% | 58.18% |
| Kansas City Chiefs | 32.08% | 67.92% |
| New England Patriots LIII | 46.15% | 53.85% |
| Philadelphia Eagles  | 44.44% | 55.56% |
| New England Patriots LI | 54.72% | 45.28% |
| Denver Broncos | 41.51% | 58.49% |
| New England Patriots XLIX | 47.17% | 52.83% |
| Seattle Seahawks | 41.82% | 58.18% |
| Baltimore Ravens | 52.83% | 47.17% |
The Kansas City Chiefs had the lowest number of drafted players in their squad, a total of 32% of their team being drafted, which is almost a full 10% lower than the next highest team.
The Chiefs' strategy saw them make two consecutive Super Bowls, but with the loss of Tyreek Hill and addition of five draft picks, the Chiefs now have some decisions to make. With 12 picks for this upcoming draft and two coming in the first round, it seems that the Chiefs are looking to build young talent to bolster their squad in an attempt to return to a Super Bowl spot. 
Despite the majority of the rosters having less than 50% of drafted players, nine out of the 10 Super Bowl MVPs were all drafted by their team. Tom Brady collected his fifth Super Bowl MVP accolade with Tampa, the other four coming whilst at the Patriots. 
The Seattle Seahawks are far from their Super Bowl XLVIII winning team, where 41.82% of their team was drafted. With the departure of Russell Wilson, they will be looking to rebuild with the multiple draft picks they have earned from Wilson's departure. 
All eyes will be on the upcoming draft, but for some fans day one will be filled with less excitement, with eight teams currently without a first round pick. 
Pickswise is the home of NFL Picks. Check out our expert analysis, including our NFL Best Bets and NFL Parlays each week, as well as our look ahead and updated Super Bowl predictions all season long.