The Pickswise NFL Power Rankings: Packers back on top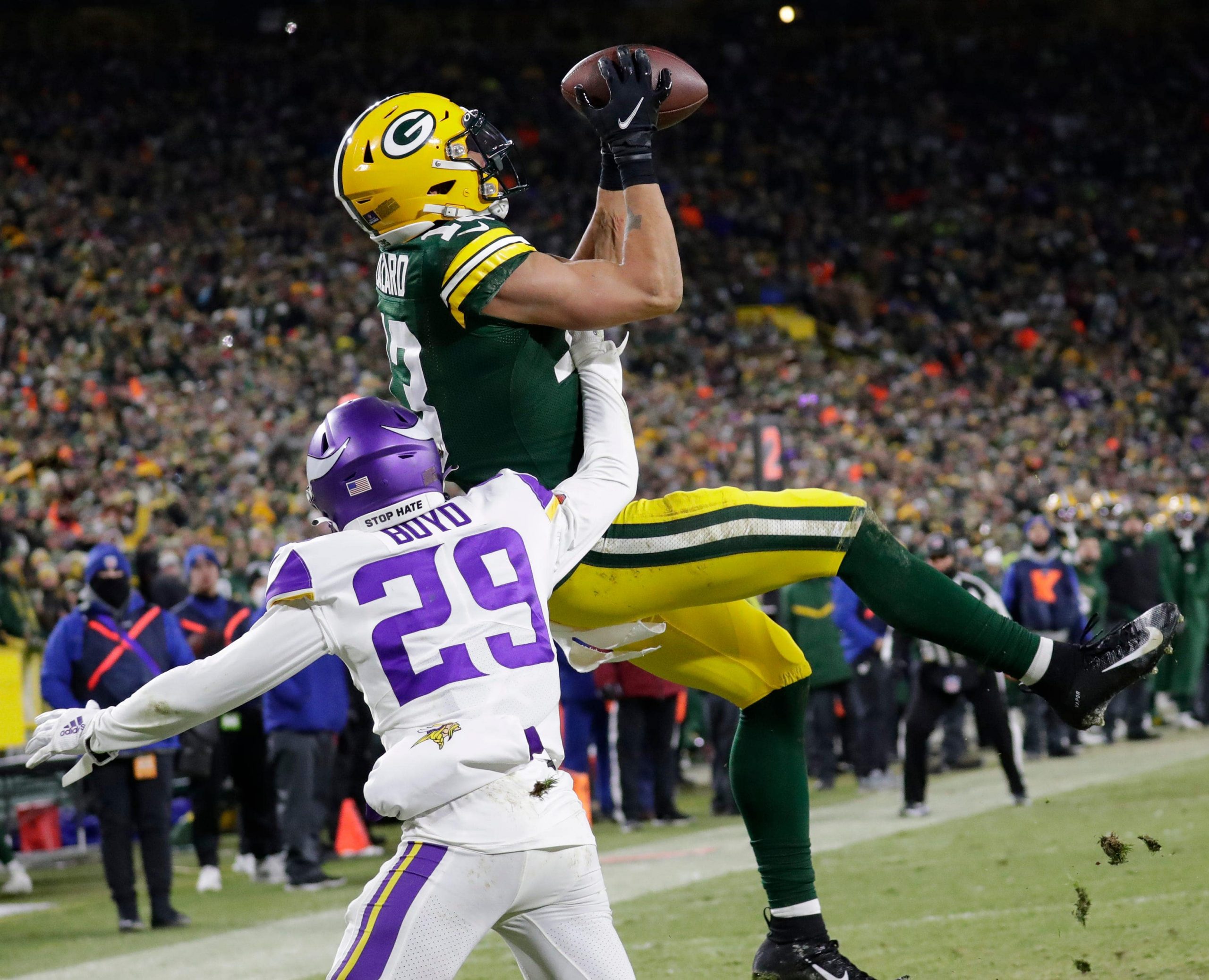 Kansas City blowing a double-digit lead in Cincinnati didn't only lose them the lead in the race for a first-week bye in the AFC playoffs. It also saw them losing top spot in the Pickswise NFL Power Rankings. We can only speculate which of those will be the bigger concern for Andy Reid and Patrick Mahomes. The Packers did a much more efficient job of living up to their billing in Week 17, crushing the Vikings for their 5th straight win, and moving back to the front of the Pickswise pack.
This season, we've handed over control of our NFL power rankings to the Pickswise supercomputer. Our data science team has created a predictive machine learning model that makes use of a proprietary dynamic rating system. In addition to analyzing in-house derived metrics, the model also adapts to situational factors such as rest weeks, home-field advantage, and time-zone differentials.
Let's take a look at how the computer ranks all 32 teams heading into Week 18.
1 Green Bay Packers (13-3)
The Packers became the new Super Bowl favorites with the news that the NFC road to the Super Bowl runs through Lambeau Field, and you can see how valuable that is from their 8-0 home record.
2 Kansas City Chiefs (11-5)
The Chiefs' defensive collapse in Cincinnati had widespread effects in the AFC, but they get to make the first move this week as they play on Saturday. A win over Denver would put the pressure back on current No. 1 seed Tennessee.
3 Tampa Bay Buccaneers (12-4)
The reigning NFL champions were really gathering steam at this point last season, but this time things are heading in the wrong direction. The Bucs managed to get into a fight with the Jets, albeit one they won, while Antonio Brown's outburst and likely exit, along with their injury issues, has left Bruce Arians will plenty of headaches.
4 Buffalo Bills (10-6)
It's the Bills or the Patriots for the AFC East title and the Bills are now -2000 to keep the divisional crown with the Jets at home being their last game.
5 Los Angeles Rams (12-4)
The Rams have got something going now, although an interception-free game from Matt Stafford would be comforting for their fans and they got themselves into trouble against a Ravens team missing Lamar Jackson this week.
6 Indianapolis Colts (9-7)
The Colts were one of the bigger losers in Week 17, suffering a costly defeat to the Raiders which ended their pursuit of the Titans in the AFC South. The good news is that to get into the playoffs, they just need to beat the Jaguars. File that under they really can't mess that one up.
7 Dallas Cowboys (11-5)
The Cowboys have said they will bid to regain any lost momentum from Sunday's loss to Arizona by going for the win against the Eagles on Saturday night. They are 5-0 in their division, but they won't get to play anyone from the NFC East in the Super Bowl.
8 Tennessee Titans (11-5)
The Titans can at least play the 'no one respects us' card for motivation as their ranking and odds are not what a typical projected AFC No. 1 seed would have. Maybe that's because they lost to the Jets and Texans this year, but they're 7-2 at home, so the top seed would make them dangerous.
9 New England Patriots (10-6)
The Patriots bullied the Jaguars into submission on Sunday, and now they need to get a chance at revenge against Miami and hope Buffalo slips up. They can still get the No. 1 seed if the Titans, Chiefs and Bills all lose!
Read Jared Smith's Early Birds column, including the early lines for NFL Week 18
10 San Francisco 49ers (9-7)
The 49ers had a little bit of trouble against the Texans, trailing at halftime as Trey Lance replaced Jimmy Garoppolo at QB. They're 3rd in their division, but will still make the playoffs with either a win over the Rams or a Saints loss to the Falcons.
11 Cincinnati Bengals (10-6)
The Bengals have climbed 9 places in these rankings over the last 2 weeks, and arguably more importantly, clinched the AFC North with their comeback win over the Chiefs that sunk so many of their playoff rivals' hopes. Their final game could have been a straight fight for the title, but now they are playing a demoralized Browns team fielding a backup QB and the Bengals can still enhance their playoff seeding with a win.
12 Arizona Cardinals (11-5)
Maybe the Cardinals aren't quite finished yet. Their win in Dallas was their 8th on the road this season, so maybe not having home-field "advantage" in the playoffs will not be such a bad thing.
13 Philadelphia Eagles (9-7)
Those seeds of hope that Nick Sirianni planted have bloomed into a playoff spot for the Eagles. There's a distinct lack of quality wins on their record, but you've got to be in it to win it, and they've done that part.
14 New Orleans Saints (8-8)
The Saints' battle with the 49ers for the final NFC playoff spot is one of the closest contests of Week 18. Both games are in the 4:25pm ET slot, so Scott Hanson will be in his element switching between them.
15 Los Angeles Chargers (9-7)
Chargers vs Raiders has ended up as one of the games of the week after LA got back on track by beating Denver after back-to-back losses. It should be a great game to bring down the curtain on the NFL's longest regular season.
16 Baltimore Ravens (8-8)
The Ravens are technically still alive after their bold effort in defeat against the Rams, but they need a ton of help, which is not surprising after 5 straight losses.
17 Miami Dolphins (8-8)
It seems harsh that the Dolphins were eliminated for just 1 loss following a run of 7 wins, but they would still like to end the season as they began it, by beating the Patriots. It seems even more unlikely now than it did the first time, though.
18 Seattle Seahawks (6-10)
With only 14 playoff places available, there aren't going to be many teams whose seasons are still alive this far down the list (although we're not done with them yet). Seattle is not on the list, but there is positive news for Seahawks fans with suggestions that Russell Wilson could be cooking for them again next season.
19 Pittsburgh Steelers (8-7-1)
The Steelers have taken it down to the wire in what could be the last game of Ben Roethlisberger's career. They need only a win over the Ravens and a Colts loss to get in (as long as the Raiders and Chargers don't tie). The Jaguars are +730 odds to get them the result they need, but it has been a strange season!
Read Andrew Ortenberg's verdict on what we saw on Monday Night Football
20 Minnesota Vikings (7-9)
Mike Zimmer seems outraged at suggestions that he might have thought about playing his rookie QB Kellen Mond with Kirk Cousins unavailable. But then he also chose to leave his face uncovered in Green Bay despite it turning Vikings purple in the cold. A contrary kind of guy…
Read Ricky Dimon's analysis on Vikings vs Packers
21 Las Vegas Raiders (9-7)
A 9-7 team set to feature on the final Sunday Night Football of the season and still in contention after 3 straight wins down in 21st place? In the computer's defense, it is a climb of 1 spot.
22 Cleveland Browns (7-9)
The Browns' demise in Pittsburgh began with Jadeveon Clowney extending the drive that led to Pittsburgh's first TD after a 3rd-down stop by getting a penalty for hurling Chase Claypool's shoe across the field. It's been that kind of season for the disappointing Browns, who have finally sent QB Baker Mayfield to get his shoulder fixed, approximately 16 weeks too late.
23 Denver Broncos (7-9)
It's 4 losses in the last 5 games for the Broncos who, like the Browns, could be players in the offseason quarterback market.
24 Chicago Bears (6-10)
Back-to-back wins for the Bears! It was against whatever's left of the Giants, sure, but it still counts.
25 Washington Football Team (6-10)
The Football Team lost for the 4th straight game, but in more important news, the team is announcing its new nickname on February 2. Some of us would like to see them retain the traditional Football Team nickname, but it's all about change these days. We won't know what we've got 'til it's gone.
Check out Andrew Ortenberg's view of what we saw in NFL Week 17
26 Atlanta Falcons (7-9)
It's a little surprising that a 7-9 record isn't enough for the Falcons to still be in contention in the NFC, but their commitment to extending their L-W-L-W-L-W-L record proved their downfall.
27 Carolina Panthers (5-11)
The Panthers are shooting up the draft board like a QB who throws for 600 yards in a bowl game. Six straight losses (and after a 3-0 start!) have left them in position to get the 6th pick if the season ended now.
28 Houston Texans (4-12)
The Texans have officially overachieved. They were favorites to have the worst regular-season record and that can no longer happen.
29 New York Giants (4-12)
Few teams are ending the season with as big a whimper as the Giants. Saquon Barkley had a 100-yard game against the Bears but they scored just 3 points as Mike Glennon completed just 4 passes for 24 yards. With 34 yards lost on sacks, they had -10 net passing yards.
30 New York Jets (4-12)
The Jets scored a moral victory over the Bucs, that should really have been an actual victory. Still, they climb one place as the computer recognizes their strong effort.
31 Detroit Lions (2-13-1)
The race for the first draft pick is going to the wire, with the Lions just a half-game back/ahead of the Jaguars thanks to their tie against the Steelers. Who knows how many players the Packers would have to rest to risk losing this week?
32 Jacksonville Jaguars (2-14)
A 40-point loss to the Patriots suggests the Jaguars are keen on getting back-to-back first picks, and it will be really bad news for the Colts if they don't. Reports suggest Jags fans will be dressing as clowns at that game. Just do your own punchlines…
Pickswise is the home of free NFL Predictions  and NFL Odds. Check out the latest NFL Prop Bets and NFL Parlays as well as expert NFL Underdog Picks and NFL Computer Picks.