Wise n' Shine: What you need to know to bet better on Friday, July 15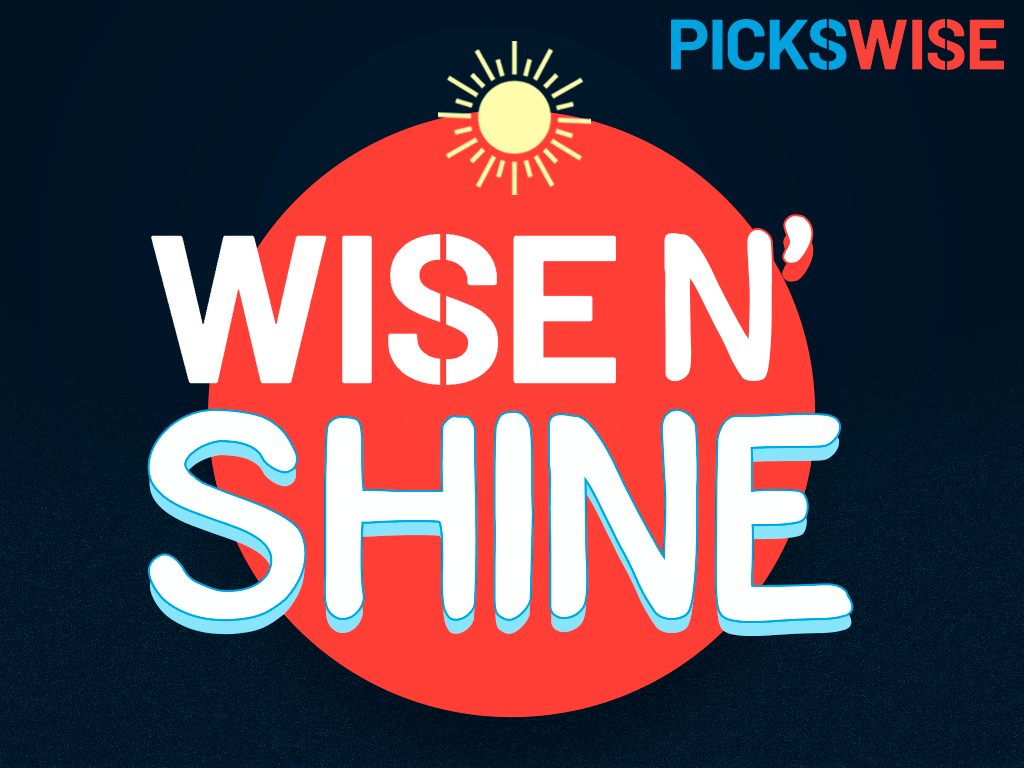 Good morning, Pickswise Nation. We have another fantastic Friday of sports ahead with a big day of baseball, and the second round of the Open Championship. Let's get straight to making your next bet better!
About Last Night
3-0 day for MLB props
The Pickswise team went 2-0 on MLB props yesterday through Javan Shouey, and we've now cashed 5 of our last 6 article props. Meanwhile, it was a 1-1 day for our daily YRFI/NRFI article, which took its overall record to 16-4 in its first 10 days! The Cincinnati Reds completed a stunning series win over the New York Yankees with a 7-6 10th-inning win. The depleted Royals beating the Blue Jays 3-1 with 10 players staying at home was an even bigger upset, while the Rays completed a 4-game sweep of the Red Sox with a 5-4 win.
Today's Slate
Full MLB slate
We have a full slate of 15 MLB games today, with the Mets and Cubs getting things started on ESPN+ at 2:20 pm ET. Apple TV+ is showing Pirates vs Rockies at 8:40 pm ET and Diamondbacks vs Padres at 9:40 pm ET. Read today's MLB game previews.
Great day of golf
The first day of the Open Championship at St Andrews suggested that we're going to be in for a great week of golf, with Cameron Young shooting an 8-under 64 to lead by 2 shots from Rory McIlroy overnight, while Tiger Woods struggled. The second round is already well underway, but there's still time to support one of Ricky Dimon's best 3-ball bets.
Best Bet of the Day
MLB: Atlanta Braves -1.5 vs Washington Nationals
6:40 pm ET
The Braves have been chipping away at the Mets' lead in the NL East, while the Nationals have continued to struggle. The primary reason for those struggles has been their pitching staff and tonight's game will feature one of the largest culprits, Patrick Corbin. As if he wasn't already pitching poorly, the Braves have been smashing left-handed pitching this season. Atlanta is currently the 3rd-best lineup against lefties this season, and will now get to face arguably the worst one in the league. The only reason Corbin's 11 losses aren't the most in the league is due to his teammate, Joan Adon, having 12. Ian Anderson of Atlanta has won both of his starts this month and the Braves bullpen has been strong too. Read our full game preview for Braves vs Nationals.
Must-watch
Don't forget to check out our daily show Let's Bet It! on our YouTube channel at https://youtube.com/c/Pickswise at 10:00 am ET.
The full crew are in town today as Lauren Jbara, Mark Zinno and Jared Smith are your hosts and the Football Friday chat will include how to bet around key numbers. They will also be looking at the latest British Open golf odds and NBA news, as well as giving their best bets for today's MLB games and their Plays of the Day.
You can also access the show at any time through Spotify and Apple Podcasts (search for Let's Bet It Presented By Pickswise).
Must-read
Today's MLB mega parlay (+1068 odds), YRFI/NRFI plays and same game parlays for Mets vs Cubs, Pirates vs Rockies and Diamondbacks vs Padres are all available, along with our best bests for tomorrow's Premier Lacrosse League All-Star Game.
Read all of our great sports analysis as it arrives throughout the day on the Analysis tab.
Stat of the Day
The Mariners have won their last 11 games, and 14 of their last 15.
Quote of the Day
"That was probably the highest score I could have shot. I just wasn't very good on the greens."
Tiger Woods's dream of a third Open win at St Andrews quickly turned into a nightmare.
Pickswise is the home of free sports picks, news, and best bets. Check out our expert NBA picks, NHL picks, MLB picks and Soccer picks for the latest game picks.