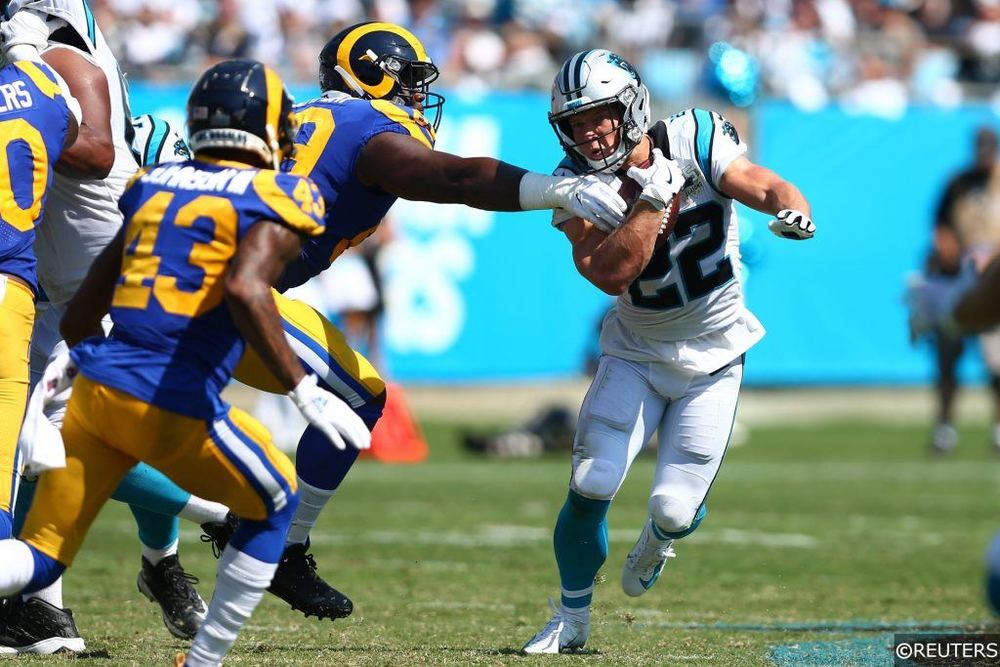 Welcome to our NFL best bets section where we outline our top NFL plays each week. If you want our plays for all other NFL games then head over to our NFL picks homepage. We have free picks for every game on the slate and a weekly parlay.
Pickswise NFL Best Bets Record: 22-16-1
---
Detroit Lions vs. Chicago Bears
NFC North clash here as the Chicago Bears host the Detroit Lions in a game both teams desperately need to win. The Bears are coming off an embarrassing loss to the Eagles in which their offense struggled just to obtain positive yardage, while the Lions lost a last-second heartbreaker to the Raiders. For a few reasons, I think the Bears are going to be able to get back on track here. Yes they struggled against Philadelphia, but the Eagles' defense is better than a lot of people realize. Detroit's defense is an absolute mess right now, and I think Mitchell Trubisky will finally be able to have some success. Lions cornerback Darius Slay straight-up blasted Detroit's coaching staff after their most recent loss, which is never a good sign. It seems like the locker room might be falling apart again, and if so then all bets are off. I don't think Matthew Stafford is going to have much success here on the road against an elite Chicago defense, and I think the Bears will win this one pretty easily. Pick Bears -2.5 needs to be on your betting slip!
---
Los Angeles Rams vs. Pittsburgh Steelers
NFC vs. AFC here as the Los Angeles Rams travel to take on the Pittsburgh Steelers. The Steelers are currently on a three-game winning streak, but when you dig in I think it becomes clear that the streak is phony. Two weeks ago they beat the lowly Dolphins, and they even trailed by 14 at one point in that game. This past week they beat the Colts by two points, and it took an incredible series of events for that to happen. Indianapolis had their starting quarterback get injured, they muffed a punt, and they missed a 43-yard field goal in the final seconds that would have handed the Steelers a loss. I'm simply not buying any Mason Rudolph hype, and I think the Rams are going to dominate this game. Los Angeles is coming off their bye, and giving Sean McVay an extra week to prepare is a recipe for disaster for his opponent. He should have plenty of easy throws schemed up for Jared Goff, and I think they'll be able to pick apart this mediocre Pittsburgh secondary. I think the Rams will win this one by multiple scores. Pick: Rams -3.5 is a MUST here!
---
Carolina Panthers vs. Green Bay Packers
Very interesting game here as the Green Bay Packers host the Carolina Panthers. The Panthers bounced back with a big win over the Titans in Week 9, while the Packers suffered an unexpected loss at the hands of the Chargers. I've been high on this Carolina team all year long, and I think they're going to march into Green Bay here and put up a heck of a fight. The Packers clearly weren't playing as well as their record indicated, and it wasn't that surprising that they got exposed by the Chargers this past week. They've been getting pretty fortunate, and I think the loss to Los Angeles could be a sign of things to come. Kyle Allen had a nice bounce-back game against Tennessee, I think he should play better moving forward now that he no longer has Cam Newton breathing down his neck after Newton was placed on injured reserve. The Chargers just saw their lifeless rushing attack get rejuvenated against Green Bay's run defense, so I think Christian McCaffrey's in for a big day here. Take the points with the Panthers all day long. Pick: Panthers +5.0 is another play of the day!
---
Minnesota Vikings vs. Dallas Cowboys
Sunday Night Football here as the Dallas Cowboys hosts the Minnesota Vikings. Minnesota lost a close one on the road against the Chiefs, while the Cowboys beat the Giants in Week 9. It's tough to bet on Kirk Cousins in a primetime game, but you have to do it here. The Cowboys are being overrated in the marketplace, and let's not forget that this team just lost to the lowly New York Jets a couple of weeks ago. This offense has struggled mightily when they've had to play actual top defenses, and they're running into one here in Minnesota. I think the Vikings are going to be able to have some success on the ground here with Dalvin Cook, and I'm not holding their loss to the Chiefs against them considering Arrowhead Stadium is one of the toughest to play in across the entire league. Minnesota also has a rest advantage here as the Cowboys are playing on a short week after playing on Monday Night Football. Roll with the Vikings. Pick: Vikings +3.0 is the icing on the cake in week 10!