Pickswise Pro Football Capper Contest - Week 8 picks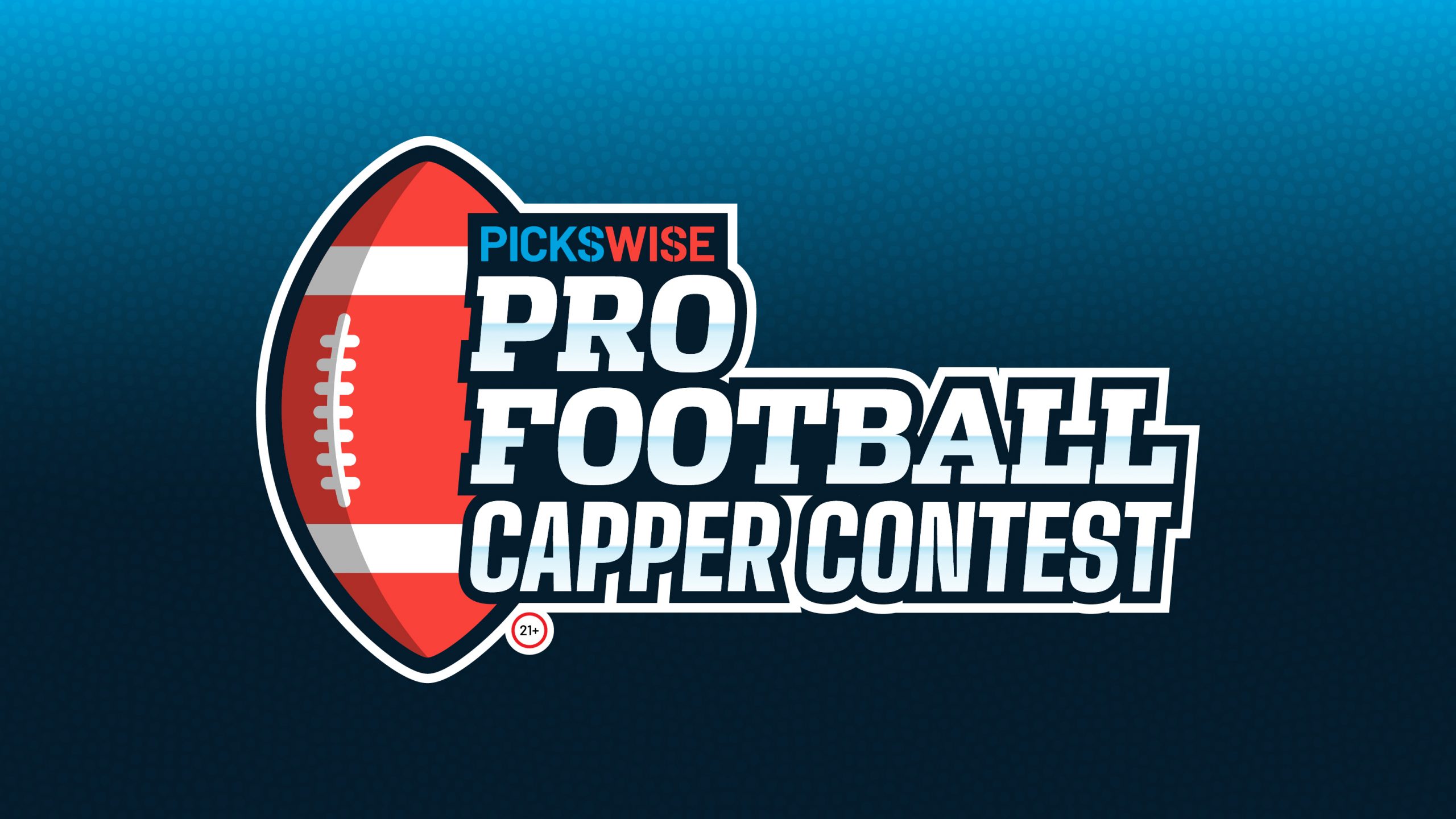 Following a perfect week from Pickswise fan Steve McQueen, our Capper Contest leaderboard is beginning to see some separation at the top. However, the next four spots are all within a week's worth of picks of each other after some bad beats and good breaks in Week 7.
Our Cappers' expert analysis for Week 8 can be found below and the full contest leaderboard and best bets are linked here.
At Pickswise, we specialize in providing free expert picks and predictions, and you can find all of our best bets, props, and parlays here.
Let's check out this week's picks from the contestants, who are listed in order of the current standings.
Steve McQueen
Best Bet: Under 42 in Steelers vs Browns
I went an amazing 3-0 last week but it's no time to rest on my laurels. Pittsburgh can't score – they are 5-1 in unders this season. With Baker the Browns were 3-1 on unders. I expect Mike Tomlin to still be hot about the USC questions. Sprinkle in some wind and this is a good spot to hammer the under.
Additional Bet #1: Broncos -3
WFT is just 1-6 ATS this season. Jerry Jeudy is hopefully coming back for Denver, so I am betting the less stinky team to cover at home. Gross.
Additional Bet #2: Rams -14
The Texans are 0-18 when they are heavy underdogs – hammer the LA Rams without the hook.
Check out Pickswise's Week 8 NFL mega parlay here
Jared Smith
Best Bet: Vikings +2.5
I noticed this line starting to creep towards Minnesota on Wednesday night, so I pounced and quickly pivoted away from my original strategy of patiently waiting for a full field goal. It was doubtful to get there anyway despite all the public love on the Cowboys. Perhaps the slight midweek movement was sparked by Mike McCarthy's comments that Dak Prescott must "cross the threshold to make sure he's full-go" from a lingering calf injury. The market expects Dak to play, but that quote does cast a shadow of doubt that he's not back to 100%. I know it's tough to stomach fading the Cowboys, who are 6-0 ATS this season, but NFL point spreads are designed to prevent teams from going on lengthy streaks against the number, so it's safe to expect regression at some point.
"The public is going to be all over the Cowboys and the sharps will be on the Vikings," said WynnBET Trader Sawyer Johnson." According to my numbers, this game should be a PK." My numbers say these teams are dead even in Net Yard Per Play and the Vikings have a slight edge in DVOA, so catching any amount of points at home with Minnesota is enticing. Up front, keep an eye on Vikings rookie left tackle Christian Darrisaw. If he can hold up against an athletic and aggressive Cowboys defensive line to give Kirk Cousins time to find Justin Jefferson and Adam Thielen in the deep and intermediate game, I like the Vikings' chances to win this outright.
Additional Bet #1: Falcons -3
If you had told me 4 weeks ago the Falcons would be laying a field goal to Sam Darnold and the Panthers in this spot, I probably would not have believed you. But, that's the push-and-pull nature of the NFL. I like what I've seen from Arthur Smith's offense of late, averaging 29.0 points over the last 3 games. Kyle Pitts has also been unleashed with 16 catches and 282 yards in the last 2. Obviously Atlanta's biggest weakness is the defense, but considering how poor the Panthers' offensive line is playing (21 sacks over the last 5 games), I don't expect Darnold to be able to fully take advantage. In fact, the Panthers failed to even reach the red zone against the Giants, which is almost hard to fathom in an NFL game.
I acted swiftly on the Falcons right when the line came out on Sunday night, and it was the featured game in this week's Early Birds column. The market has agreed with me as this line has already moved to -3, and some bookmakers believe the Falcons are still undervalued at that price. "My number is Atlanta -7.5," said WynnBET Trader Sawyer Johnson. "The Panthers haven't been a good team this season. I view them as overrated."
Additional Bet #2: Patriots +5
The Pats are playing pretty good football right now despite just a 2-2 overall record during that stretch with tight losses to the Cowboys and Bucs. The Chargers are coming off a bye, which should favor them, but I'm curious to see how Justin Herbert adjusts to the stout New England defense after last year's 45-0 blowout loss, the worst game of his young career and the worst loss in franchise history. Bill Belichick has this funny way of getting inside the mind of young quarterbacks and perpetually haunting them. 
The early-week splits in this game favor the Chargers, but only marginally. "Tickets are nearly split but over 60% of the handle is on Chargers," said BetMGM Trader Darren Darby. Over at Wynn, "the market seems split, but the sharps like the Patriots." That's good enough for me, not only am I getting 5.5 points with what I believe to be the better defense, but I still think the books are undervaluing Mac Jones and how well he's played in some pretty high profile games this season.
Read Jared Smith's Week 8 NFL picks here
David Baker
Best Bet: Bengals -10.5
I get it, I'm buying the Bengals at peak. Bengals are young enough and have been beaten up enough to want to put a whopping on some one. That someone is Mike White and the NY Jets. I can imagine this game is competitive in any way. Joe Burrow, Jamar Chase, Huggins, Boyd, Mixon and a young hungry defense.
Additional Bet #1: Eagles -3.5
If you have read my previous picks you know I am not a fan of the Eagles, but you also know I don't have much respect for the Lions. The Lions are one of the easier teams to forecast despite my misstep last week. When teams aren't good enough to overlook the Lions they trounce them. The Bears and Bengals both did this in similar spots as the Eagles. The Lions left it all out on the field against the Rams. I think Eagles are the right side here.
Additional Bet #2: Patriots +5
The Chargers aren't good against the run. The Patriots like to run. The Chargers are a nice team. Maybe even very good team, but the Patriots have been very competitive this year against good teams despite only winning against the dregs of the league. Boston transplants have spent 20 years not getting to see their hometown boys play live. Now they get a chance to fill up Sofi stadium. My thoughts are there is little if any home-field advantage, and scoring will come at a premium so let's take the 5 points
Check out the ultimate betting guide to all of our Week 8 NFL content
Drew Knows
Best Bet: Vikings +2.5
​​I love the Vikings. I liked Minnesota even before news of Dak Prescott's calf injury broke, and now I like them a lot more. For the sake of this contest we're getting +2.5, when the line has shifted significantly since. There's no way I can pass that up. Minnesota might be 3-3, but they easily could be 6-0. Their losses have come to the Bengals, Cardinals, and Browns, three very solid teams. Each of them was by just a possession, and they really should have won the games against Cincy and Arizona. Just a few weeks ago, the Cowboys gave up 28 points to Sam Darnold, so I'm not buying that Dan Quinn has solved all their defensive issues. Now playing at home against a Dallas defense I still don't trust, I've got to take the Vikes.
Additional Bet #1: Under 55 in Cowboys vs Vikings
I'm taking this banking on the chance that Dak Prescott doesn't play. If he doesn't and Cooper Rush starts, I don't think there's any chance this total goes over 55. If it's Rush under center, the Cowboys will almost exclusively be looking to run the ball. Even if Prescott does play, it looks like he'll be severely limited and probably won't be his normal self. Kirk Cousins isn't always his sharpest during primetime games, and the Vikings aren't going to send a total this high over by themselves. Minnesota's defense has really impressed me lately after a slow start.
Additional Bet #2: Colts -1.5
I'm a big believer in this Colts team. Indy has now won three of four games, and the one loss in that span came in overtime against the Ravens. I can't really hold that one against them. They only struggled early on because of a tough schedule and a ton of injuries. They almost beat the Titans on the road in Week 3, and that was at a time when they were at rock bottom. Now at home and getting healthy, I expect a decisive win. The Titans will be without Julio Jones, and the Colts are one of the toughest teams in the league to run on.
Read Andrew Ortenberg's Week 8 NFL trends article here
Ross Tucker
Best Bet: Lions +3.5
The Lions are not that bad. That's my logic behind taking them and the 3.5 points against the Eagles at home on Sunday. To put it another way, the Lions are not 0-17, bad even though they are currently 0-7 bad. I firmly believe they are going to win a game or two. They've been right there so many times, losing by last-second field goals against the Ravens and the Vikings.
One quick look at their schedule tells you that if they are going to win a game, a home contest against the struggling 2-5 Eagles is probably as good as any. The Eagles have major issues right now on both sides of the ball and will come limping in to Ford Field on Sunday trying to right the ship but also with a lot of pressure on them because they certainly don't want to suffer the indignity of being the first team to lose to the lowly Lions.
Win or lose, this feels like a field-goal game. Which means even if Lions head coach Dan Campbell can't get win number one there's a very good chance my best bet still cashes and for you, unless you are a Lions fan, that's all that matters.
Additional Bet #1: Jaguars +3.5
Additional Bet #2: Steelers +3.5
Prop Bet Guy
Best Bet: Under 55 in Cowboys vs Vikings
The key here, of course, is Dak Prescott's availability. Even if he does play, the Cowboys QB likely won't be 100%, which should dampen their dynamic offense.
And regardless, both of these teams are going to lean on their run game. With Dalvin Cook reportedly healthy and ready to roll, the Vikings will attack the improved defense of the Cowboys on the ground. The same goes for the Cowboys, with their elite duo of Ezekiel Elliot and Tony Pollard.
Both teams have been able to avoid turnovers, and retain possession, ranking in the top 12 in each category. Despite the passing attack of both teams, this game reads a bit slower to me than this total indicates. Give me the under.
Additional Bet #1: Falcons -3
We're riding momentum here. Matt Ryan and the Falcons offense finally looks like it's clicking in new head coach Arthur Smith's system. And the Panthers have yet to win a game without Christian McCaffrey. The Falcons always find a way to make it interesting, but I like them to get the job done at home.
Additional Bet #2: Buccaneers -5.5
The Saints defense is formidable, but they can be beaten. And who better to do that than Tom Brady and the Bucs offense? Plus, the Bucs should be able to keep Alvin Kamara at bay, which leaves Jameis Winston to figure out how to keep up with Brady. I like the Bucs by at least a touchdown.
Read PropBetGuy's best prop picks here
John Hyslop
Best Bet: Over 43.5 in Jaguars vs Seahawks
This is one of those it-will-never-go-over-but-then-it-does games. Jacksonville should be able to run on Seattle, which will help Trevor Lawrence. We don't need a high-scoring game here. 24-20 does it. It's pretty certain that nobody in this contest is going to take this one so if I make it my best bet, then it should help me gain on the field. That's the plan at least.
Additional Bet #1: Over 49 in Patriots vs Chargers
This is another one that I doubt will attract a lot of interest. The thing is, the Chargers can't stop the run for anything. Nobody in the NFL is worse on a per-attempt basis. They're giving up 5+ yards per carry. Damien Harris can help move the ball and keep drives alive for the Patriots. The sting from last year's 45-0 beatdown should push the Chargers' offense a little. This feels like a 27-24 type game with upside.
Additional Bet #2: Over 45.5 in Panthers vs Falcons
Why not? I said I'm taking overs to try to get back into this thing and here we are with another over. Sam Darnold should play pretty motivated, so there is that. The crazy thing is, the Falcons are the ones that could push the pace and drive the scoring here. This could easily end 27-20 and cash this over.
Read John Hyslop's best underdog bets for Week 8 here
Jamaal Charles
Best Bet: Lions +3.5
Do I have the Lions as my lock of the week? Yes! This team has a lot of fight in them and I think Dan Campbell will have them ready to go. Give me the Lions +3.5 at home over the Eagles.
Additional Bet #1: Chargers -5
Coming off their bye week I think the Chargers will come out slinging at home. The Patriots will keep it close throughout, but I think the Chargers win by a touchdown.
Additional Bet #2: Vikings +2.5
This is going to be a really fun primetime game against the Cowboys, but I think the Vikings will prevail at home. The Vikings keep every game close and have played only one game this year that was decided by more than one score.
Pickswise is the home of free NFL Predictions  and NFL Odds. Check out the latest NFL Prop Bets and NFL Parlays as well as expert NFL Underdog Picks and NFL Computer Picks.