Pickswise Pro Football Capper Contest: Week 9 Picks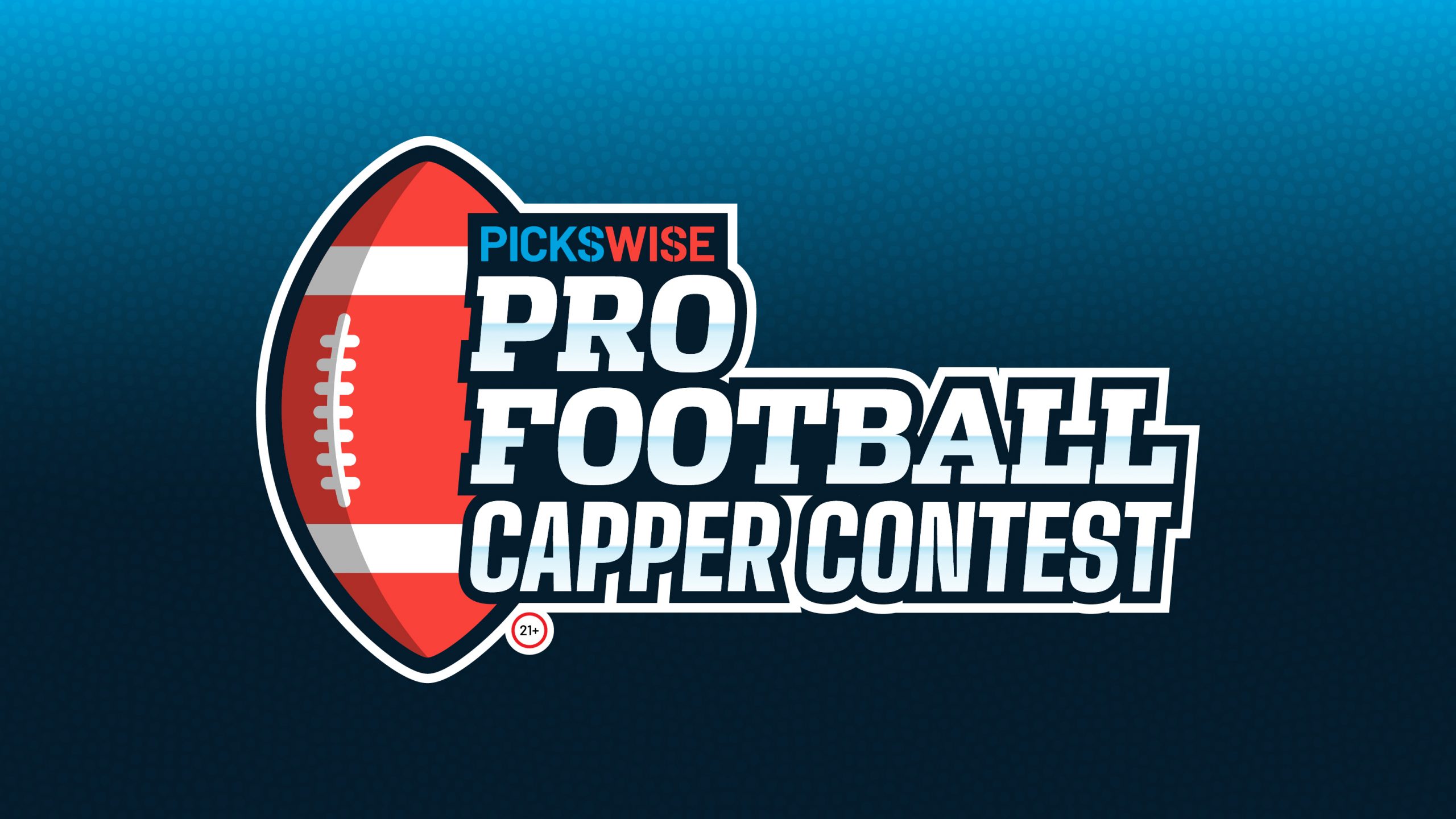 Pickswise's Fan Capper Steve McQueen is on absolute fire, and has taken a commanding lead in the Pro Football Capper Contest following two straight weeks of perfect picks. Heading into Week 9 the experts are starting to sweat as McQueen looks to widen his lead. There is still a lot of football left to be played this year and momentum could shift in any given week.
With $10,000 at stake, our Cappers' expert analysis for Week 9 can be found below and the full contest leaderboard and best bets are linked here.
At Pickswise, we specialize in providing free expert picks and predictions, and you can find all of our best bets, props, and parlays here.
Let's check out this week's picks from the contestants, who are listed in order of the current standings.
Steve McQueen
Best Bet: Steelers -6
The last time I was at Heinz Field was in 2005 vs the Bears — Steelers lost to the Bears and then went on a run winning the Super Bowl. Ben is still QB in 2021 — I don't expect the same run but I expect the Steelers to beat the lowly Bears helping fire Matt Nagy. Take the #HereWeGo Steelers at home in prime time.
Additional Bet #1: Cardinals vs 49ers under 45
Kyler and Jimmy G are banged up. I'm not sure who is going to get the rock to Boiler Rondale this weekend, but I expect a low-scoring slog. Take the under in the MASH bowl.
Additional Bet #2: Chargers -2.5
The Chargers are 8-3 against the spread (ATS) in its last 11 games. Philadelphia is 1-5 straight up in its last 6 home games. For these two reasons I am taking Herbie and the Chargers in a close game.
Check out Pickswise's Week 9 NFL mega parlay here
David Baker
Best Bet: Bengals -2.5
If you have read my picks this year you will see a theme. I like this Bengals team. Sometimes teams rally around distraction and sometimes they don't. I'm going against the teams with distractions this week. First of all I think the Bengals are just better. Second, the Browns are broken. Baker is broken. Do they rally around the QB or the dismissed WR? I don't think Baker is awful, but clearly doesn't have the magic he found last year and the team knows it. Odell has been terrible this year but him being in there matters for the overall offense ability. I just don't see anything on offense to give me hope. Burrow and company can score on anyone and I'm dismissing last week's collapse. Finally, Cincy has a chance at state dominance. I think this is an easy win in Cincy.
Additional Bet #1: Giants +3
This line makes no sense to me. Are the Raiders definitely better than the Giants? I'm not sure about this. Are the Raiders better than the Chiefs? I ask this because the Giants got 10 in KC and 3 in NY means this line in Vegas would be almost 10, as well. That seems entirely too high. The Giants record may not be great but they are in every game. They look pretty good at times and I think Jones is a legit QB. The Raiders have had distractions for weeks and I don't know how anyone around that team was able to put everything into this road trip. The wrong team is favorite in this matchup. The Giants should win this game outright.
Additional Bet #2: Cowboys vs Broncos Under 49.5
The Broncos' offense is extremely limited. The cowboys have a hobbled QB and the Broncos struggle against the run. I expect the Cowboys to come out and feed Zeke and Pollard while the Broncos will struggle to move the ball. It's always scary to play an under with this Cowboys team, but I think this a perfect spot.
Check out the ultimate betting guide to all of our Week 9 NFL content
Jared Smith
Best Bet: Packers +7.5
I know, Aaron Rodgers is a bona fide Hall of Famer and Jordan Love is making his first career start, but if this season (and last week) has taught me anything it's that these backups are proficient. It's difficult for me to declare their worth as more than a full touchdown less than the starter. There is certainly a lot of volatility attached to backing an unproven commodity at quarterback, but I believe the floor is a touchdown and the ceiling is significantly higher — so at worst I am confident in getting slightly better than fair market value at 7.5.
Regardless of who is under center for the Packers, the Chiefs defense is still one of the worst units in the league, and Green Bay should get back several other key pieces, including wideouts Davante Adams and Allen Lazard, and LT David Bakhtiari. "The Packers' rushing attack and getting the points is a very enticing bet," said WynnBET Trader Sawyer Johnson. Cue up some Aaron Jones props if you're feeling frisky, and definitely sprinkle the money line because I would not be shocked if Green Bay won this game outright.
Additional Bet #1: Bengals -2.5
What a mess in Cleveland. The Odell Beckham saga likely came to an end this week, and while his status will not impact the point spread, it's hard to say it won't matter in the Browns' locker room. The relationship between OBJ and Jarvis Landry is significant, and of course how all of that relates to the mentality of Baker Mayfield is vital. It won't help that his left tackle Jack Conklin is sidelined with an injury, and that the Bengals are coming off an embarrassing loss to the Jets, one I would expect them to bounce back from with vigor.
Cincinnati's analytics have been a surprise for me this season, as they are ranked 3rd in Net Yards Per Play and 13th in DVOA. They are also gaining 6.7 yards per play on offense over their last three games, the best mark in the NFL during that stretch. Meanwhile, the Browns offense has taken a significant dip, averaging just 12.67 points per game over their last three. On defense, Cleveland is also showing signs of wear and tear. Keep an eye on the injury status of Jadeveon Clowney (ankle/knee/hip), Malik McDowell (illness), and Takk Mckinley (groin), as none of them practiced on Wednesday.
Additional Bet #2: 49ers +1.5
This is a really good spot for the 49ers, who seem to be catching the Cardinals at the right time. San Francisco played one of its most complete games of the season Sunday in Chicago, and now with questions surrounding Kyler Murray's health, the smart money is selling Arizona. "I think that some regression in the future is inevitable," said WynnBET Trader Sawyer Johns. "The 49ers could have won their first matchup. Trey Lance just didn't make enough plays. Now, with their starting quarterback, George Kittle most likely returning and being at home, the 49ers should win this game in my eyes."
Read Jared Smith's Week 9 NFL picks here
Drew Knows
Best Bet: 49ers +1.5
I was already going to like the 49ers this week even if Murray played, and now it looks like there's a very good chance he won't. DeAndre Hopkins is also highly questionable for this one, while AJ Green won't be playing. These teams are trending in opposite directions injury-wise, as the 49ers are finally starting to get healthy. A lot of people wrote San Francisco off for dead, but they were the most efficient offense in the league last year both on the ground and through the air. The JJ Watt injury is a huge blow to Arizona's defense. The 49ers have always done a good job of defending Murray, and now they'll either be getting him on a bum ankle or Colt McCoy.
Additional Bet #1: Texans +6.5
I can't imagine wanting to lay nearly a touchdown with the Dolphins. Miami is 1-7, and that very easily could be 0-8 had they not beaten the Patriots by a single point all the way back in Week 1 due to a couple of ill-timed New England fumbles. Tua Tagovailoa just isn't it, and he'll once again be without top receiver DeVante Parker after Parker got hurt again in Week 8. On the flip side, the Texans are finally getting Tyrod Taylor back. Things were pretty rough with rookie Davis Mills under center, but everyone seems to have forgotten that the offense looked really good in the first game and a half before Taylor got hurt.
Additional Bet #2: Titans vs Rams Under 54
I'm not expecting a shootout for Sunday Night Football — and it's not just because Derrick Henry will be out for the Titans, although that is obviously a big loss. Jalen Ramsey is arguably the best corner in football, and I think he'll be able to remove A.J. Brown from the game. Von Miller has been added to a defensive line that already featured Aaron Donald. That's just unfair, and they figure to make life miserable for Ryan Tannehill. Quietly, Tennessee's defense has also been playing better. They just held the Chiefs to only three points two weeks ago. It also doesn't hurt that neither Matthew Stafford or Robert Woods practiced all week due to injuries.
Read Andrew Ortenberg's Week 9 NFL trends article here
Ross Tucker
Best Bet: 49ers +1.5
Whether DeAndre Hopkins or Kyler Murray play or not they are clearly less than 100 percent. In fact, far from it. Couple that with the Niners getting back George Kittle and Jimmy G playing every game like his career depends on it — because it does — and I think the Niners cover.
Additional Bet #1: Panthers +3.5
Additional Bet #2: Dolphins -6.5
Prop Bet Guy
Best Bet: Titans vs Rams Under 54
I think an argument can be made that no single player is more important to his team than Derrick Henry. The offense is predicated on getting him the ball, and his absence will have ripple effects throughout this game. Starting with the Titans on offense, they will now be forced to lean on Ryan Tannehill and the passing game. And to begin that new life, they get a brutal matchup right off the bat with Jalen Ramsey and the Rams passing defense. Play-action likely won't phase the Rams without the threat of Henry getting the ball. And on the flip side, the Rams offense is a juggernaut, but I like the Titans to slow them down just enough. After a very shaky start to the season, the Titans secondary ranks 15th in yards per pass attempt allowed.
Additional Bet #1: Texans +6.5
Taking one of the worst teams in football on the road is scary, but the Texans get Tyrod Taylor back on Sunday. Taylor looked very capable in limited action at the beginning of the season, and should spark Houston's offense. The Dolphins have been poor on both sides of the ball, and I don't trust them to pull away in this one.
Additional Bet #2: 49ers +1.5
I like the 49ers to avenge their earlier loss to the Cardinals this Sunday. San Francisco played Murray and company close, in Trey Lance's first NFL start. Now with Jimmy G and George Kittle back in the fold, and Murray now hobbled by injury, I have the 49ers taking care of business at home.
Read PropBetGuy's best prop picks here
John Hyslop
Best Bet: Texans vs Dolphins Over 46.5
I'm getting back into this one and it starts this week. Everybody knows that taking overs is the path to righteousness and that has not changed. The Texans are getting Taylor back for this one and that means they're good for at least 23 points. If you're familiar with math, then you know that if the Texans score at least 23 points and the Dolphins win, then the game is going over 46.5. This is so easy.
Additional Bet #1: Cardinals vs 49ers Over 45
This is too easy to be honest with you. It's a strategy as old as time. Stars from each team (Murray and Deebo Samuel) are questionable but both are going to end up playing. When it's announced that they are both active, the line will jump at least 3 points. By then I'll be sitting there like a king with the best number. The best part about this whole thing is this game is going over 45 regardless of whether these 2 guys play. Too easy.
Additional Bet #2: Falcons +6
I wanted to take all overs and I will take mostly overs but this one has to be included because nobody in this contest has the stones to take the Falcons. If you're familiar with how competitions work, then you know that if I win a bet that nobody else has, then I gain ground. It's strategy 101; first-day stuff. I think the Saints are going to struggle with Trevor Siemian and I think their defense will let down after a huge win last week. They may win, but they won't cover.
Read John Hyslop's best underdog bets for Week 9 here
Best Bet: Bills -14.5
The Bills had a slow start last week against the Dolphins and still ended up winning by 15. Josh Allen continues to "wow" me each week, and I think the Bills will continue to show us why they are one of the top teams in the league.
Additional Bet #1: Texans +6.5
Taylor is back and I think the Texans will come ready to compete. The Dolphins will also be without DeVante Parker who is one of their biggest offensive weapons. Tyrod will keep this game close and I think the Texans will cover.
Additional Bet #2: Saints -6
Losing Jameis Winston is a huge loss for the Saints, but I must say Siemian came in last week and looked great against the Bucs. I think we will get a heavy dose of Alvin Kamara and a big showing from the Saints defense to help them get this win.
Pickswise is the home of free NFL Predictions  and NFL Odds. Check out the latest NFL Prop Bets and NFL Parlays as well as expert NFL Underdog Picks and NFL Computer Picks.