NFL
Back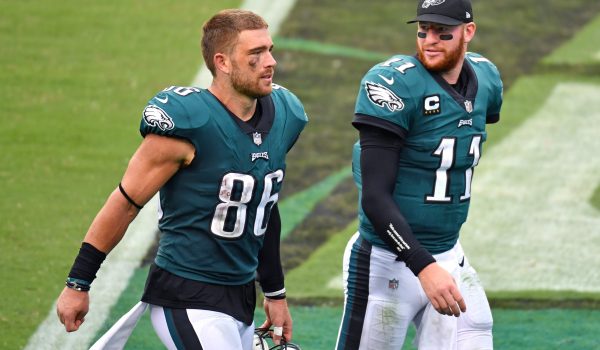 NFL Thursday Night Football Schedule & Preview - Week 7 New York Giants vs. Philadelphia Eagles
Thursday Night Football Week 7 Matchup – New York Giants vs. Philadelphia Eagles
October 22, 2020, 8:20 pm EDT, Lincoln Financial Field, Philadelphia, Penn.
An all-NFC East matchup is generally not what football fans—or the networks—are looking for on a Thursday night. But that is the grim reality that we are facing in Week 7, as the Philadelphia Eagles prepare to host the New York Giants. But, hey, at least it's better than nothing; and nothing is what we had in Week 6, when the Kansas City Chiefs vs. Buffalo Bills game was postponed until the following Monday due to coronavirus-related schedule rearranging.
It could actually be worth watching, too. Neither team is good, which will likely make for a competitive playing field (they are both well outside of the top 20 of our current power rankings). And as sad as this is, both teams are in relatively realistic division title contention. Although the Eagles are 1-4-1 and the Giants are 1-5, the NFC East-leading Cowboys are only 2-4.
Philadelphia was expected to be better than it has been so far this year, but it is incredibly banged up—especially on the offensive side of the ball. The Eagles managed to beat a similarly injury-plagued opponent in San Francisco while tying the Bengals, but they have otherwise lost to Washington, the Rams, Pittsburgh, and Baltimore. The Giants are all too familiar with injuries, as well, because running back Saquon Barkley is out for the season with a torn ACL. They were 0-5 with losses to Pittsburgh, Chicago, San Francisco, the Rams, and Dallas, before beating TWFT last week.
Be sure to check out our Giants vs Eagles Thursday Night Football predictions for our expert handicapper's picks, computer projections, and probabilities for the point spread, total, money line, and individual player performances.
Thursday Night Football Betting Odds & Lines Preview 
Philadelphia opened as a 6-point favorite at most books before the line went on a steady decline. In fact, it got all the way down to -3.5 before readjusting to -4.5. Although the Eagles were competitive with both Pittsburgh and Baltimore in recent weeks, this is a team that simply cannot be trusted. Miles Sanders and Zach Ertz are among the injured players and Carson Wentz is lining up behind a depleted offensive line (most notable being the absence of Lane Johnson). Money has come in on the Giants, who finally found the win column this week and have been showcasing a solid defense to help make up for the offense's loss of Barkley.
All of those factors can also explain why the total has been on a decline from its opening 45 mark to its current number of 43.5. New York has limited three of its six opponents and two of its last three to fewer than 20 points. Wentz has been under pressure all season long and Philadelphia could be down to a third-stringer in at least one spot on the offensive line. Meanwhile, the Giants' offense has exceeded the 20-point mark only once in 2020.
For the thoughts of our expert NFL handicappers, who look at the Thursday Night Football betting odds and lines each week to find the best value for Thursday Night Football Picks, head over to our NFL Picks page—where you'll also find all of our picks for the rest of the Week 7 games.
Want more picks and previews for Thursday Night Football? Be sure to check these out:
2020 Season Thursday Night Football Schedule and Scores
Week 1
Kansas City Chiefs 34, Houston Texans 20
Week 2
Cleveland Browns 35, Cincinnati Bengals 30
Week 3
Miami Dolphins 31, Jacksonville Jaguars 13
Week 4
Denver Broncos 37, New York Jets 28
Week 5
Chicago Bears 20, Tampa Bay Buccaneers 19
Week 6
Kansas City Chiefs 26, Buffalo Bills 17 (game played the following Monday)
Week 7
Oct., 22, 8:20 PM EDT, New York Giants at Philadelphia Eagles
(FOX, NFL Network, Amazon Prime, Twitch)
Week 8
Oct. 29, 8:20 PM EDT, Atlanta Falcons at Carolina Panthers
(FOX, NFL Network, Amazon Prime, Twitch)
Week 9
Nov. 5, 8:20 PM EDT, Green Bay Packers at San Francisco 49ers
(FOX, NFL Network, Amazon Prime, Twitch)
Week 10
Nov. 12, 8:20 PM EDT, Indianapolis Colts at Tennessee Titans
(FOX, NFL Network, Amazon Prime, Twitch)
Week 11
Nov. 19, 8:20 PM EDT, Arizona Cardinals at Seattle Seahawks
(FOX, NFL Network, Amazon Prime, Twitch)
Week 12 (Thanksgiving)
Nov. 26, 8:20 PM EDT, Baltimore Ravens at Pittsburgh Steelers (NBC)
Week 13
Dec. 3, 8:20 PM EDT, Dallas Cowboys at Baltimore Ravens
(FOX, NFL Network, Amazon Prime, Twitch)
Week 14
Dec. 10, 8:20 PM EDT, New England Patriots at Los Angeles Rams
(FOX, NFL Network, Amazon Prime, Twitch)
Week 15
Dec. 17, 8:20 PM EDT, Los Angeles Chargers at Las Vegas Raiders
(FOX, NFL Network, Amazon Prime, Twitch)
Week 16 (Christmas Day)
Friday, Dec. 25, 4:30 PM ET, Minnesota Vikings at New Orleans Saints
(FOX, NFL Network, Amazon Prime, Twitch)
How To Watch Thursday Night Football 
The Thursday Night Football schedule throughout the 2020 NFL season is a complex one, but one that brings great variety with options of how to watch Thursday Night Football aplenty.
In 2020 the consumer values options, and being able to stream Thursday Night Football beyond the traditional means of a cable TV channel, and TNF is a great facilitator of that.
Across 2020 there are four official ways to stream Thursday Night Football between Week 2 and Week 15 through the following means.
NFL Network (weeks 2 to 16)
Fox Go (weeks 5 to 16)
Amazon Prime Video (weeks 5 to 16)
Twitch (weeks 5 to 16)
The season opener between the Houston Texans and Kansas City Chiefs did not fall under the banner of Thursday Night Football, with NBC holding the exclusive rights to the National Football League Kickoff game as part of its Sunday Night Football deal. The Thanksgiving games are also aired between various networks and not in line with the rest of the TNF Schedule.
Thursday Night Football Channel
While streaming Thursday Night Football is a popular way to watch the primetime games, TV networks still hold the majority of the viewership. So, what channel is Thursday Night Football on? Much like the streaming schedule, the Thursday Night Football channel changes throughout the season between Fox and NFL Network.
NFL Network was the exclusive Thursday Night Football channel for Week 2, Week 3, and Week 4, after which Fox will show the Thursday Night Football showdown each week alongside the NFL Network. The Thanksgiving Day games will be aired across multiple TV channels.
What Time Does Thursday Night Football Start?
The Week 16 Thursday Night Football game is actually being played on Friday (Christmas Day) and has a different start time to the rest of the TNF schedule, starting at 4:30 pm EDT.
The remaining Thursday Night Football start times are standardized and set to kick off at 8:20 pm EDT throughout weeks 1-15.
Pickswise is the home of free NFL predictions. Check out the latest NFL props and NFL parlays as well as expert underdog predictions and computer picks.
Last updated: Thu 22nd October 2020